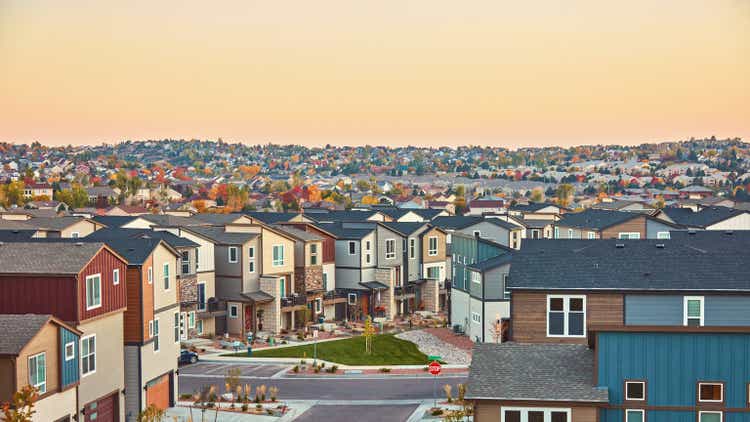 Warning lights start flashing on US housing
By James Knightley
Housing exploded during the pandemic
The US housing market has been a major support for economic activity throughout the pandemic. Falling mortgage rates as the Federal Reserve cut borrowing costs, combined with the flexibility of working from home that opened up more options for where to live, spurred an increase in demand. At the same time, supply was initially constrained by Covid restrictions, resulting in lower construction activity. Inventories for sale fell to record lows and, in an environment of excess demand, prices surged.
As the chart below shows, the S&P Case Shiller Housing Index has risen 30% nationally since the pandemic hit in February 2020, even the worst performing city Chicago has seen a rise by 20%. Tampa and San Diego both saw increases of 41%, while Phoenix was the best performer, where average prices rose 49% from February 2020 levels.
US Case Shiller Index House Price Levels (February 2020=100)
Construction surge contributed strongly to growth
Residential construction spending fell 5% between March and May 2020, but as work and movement restrictions were lifted, construction activity picked up. It is now up 35% from pre-pandemic levels, with builder sentiment supported by higher selling prices, even as labor and building material costs rise. . As a result, growth in investment in residential construction exceeded overall GDP growth, so that this sector alone accounts for 3.5% of total economic output.
In the short term, housing should continue to contribute positively to the economy. Employment and wages are rising across the country, supporting demand as new and existing home sales remain strong. This continues to support homebuilder optimism with housing starts and building permits at levels last seen in 2006.
Housing construction and building permits approach 2005 boom levels
But there are warning signs…
However, warning signs are beginning to light up. This morning's mortgage application data showed a slight drop in home buying applications. The move was not large – we are certainly outside of recent highs in the first and fourth quarters of 2021. The problem is that we could face much larger declines in the months ahead.
Indeed, mortgage rates are now rising rapidly at a time when runaway inflation is eroding household purchasing power and consumer confidence. The University of Michigan reports that sentiment is the weakest since 2011 and not far off lows seen during the 2008 global financial crisis. Potential home buyers starting to feel more nervous about the economy , the prospect of significantly higher monthly mortgage payments adds another reason for caution.
Mortgage rates rise as Fed fights inflation
Mortgage rates are rising rapidly and demand is stagnating
Treasury yields soar as Fed officials shift to a narrative of wanting to rein in inflation, with financial markets now pricing the fed funds rate ending in 2022 at 2.25%, a rise 200 basis points at the start of the year. The Fed is also expected to start shrinking its $8.9 billion balance sheet soon by allowing some maturing assets to flow, increasing the amount of bonds the market has to absorb. Higher benchmark borrowing costs imply further upside risks for mortgage rates.
The graph above shows that the national average for a 30-year fixed-rate mortgage rose from 3% in September to 4.5% last week, which is enough to increase monthly mortgage payments on a 30-year mortgage. $200,000 from $210 per month. We expect that 30-year average rate to hit 4.8% over the next two weeks, which would add another $45 per month. Fifteen-year fixed rates and adjustable rate mortgage costs are also rising.
Housing could go from excess demand to excess supply
Inventory levels remain low by historical standards at 1.7 months of sales for existing homes. They're starting to climb a little more for new homes at 6.3 months of sales versus 3.5 months at the end of 2020. But if home sales do indeed slow in response to weaker demand, those inventories could quickly climb. Also keep in mind that with building permits and housing starts at high levels, more residential properties will come on the market later this year and early 2023.
As a result, it is increasingly likely that the housing market will begin to transition from a market characterized by strong excess demand, which has fueled house prices and the construction boom, to a market where we we are in better balance. However, with the Fed focused on fighting inflation through higher Fed Funds interest rates and shrinking their balance sheets, we could see mortgage borrowing costs continue to rise rapidly. This would increase the chances that the housing market would then shift to oversupply and house prices begin to fall.
Household assets and liabilities (% of disposable income)
While this in itself is not particularly concerning from a household balance sheet perspective, with household liabilities looking weak by historical standards, this may translate into further declines in consumer confidence and weaken consumer spending. , while slowing down new residential construction. Therefore, this is an area that we are keeping a close eye on and if we do indeed see the housing market beginning to falter, that could be a factor that limits the extent of Fed policy tightening and could be a catalyst for further real rate cuts in late 2023.
The slowdown in the real estate market will also lead to lower inflation
Slowing housing market will open door to Fed rate cuts in 2023
Housing is not only important from the point of view of activity. The sector also bears more than 30% of the weight of the consumer price inflation basket via primary rents and the equivalent owner's rent. If property prices stabilize or even fall, this can quickly translate into lower inflation. This would give the Fed more flexibility to respond with interest rate cuts if they do indeed end up rising so much that the economy begins to weaken.
As such, we increasingly see the prospect of aggressive 50 basis point rate hikes from the Fed in upcoming meetings before interest rate cuts materialize in the second half of 2023. We will explain this view in more detail in our new monthly forecast update next week.
Content Disclaimer
This publication has been prepared by ING for information purposes only, regardless of the means, financial situation or investment objectives of any particular user. The information does not constitute an investment recommendation, nor investment, legal or tax advice, nor an offer or solicitation to buy or sell a financial instrument. Read more
Original post